Have you ever wondered what an associate producer does and how much money they make?
Check out our practical guidelines where we picked up really great job offers for associate producers at such global companies like Warner Bros., Discovery, Marvel Entertainment, Publicis main requirements and salary opportunities for this position. So these suggestions can be at least something you can use as a starting point to find what you are looking for!
Who is an associate producer?
Probably the simplest term for the associate producer (often referred to as the AP) can be found in Wikipedia.
Associate producer - helps the producer during the production process.
But if you look at job offers, you will find that companies looking for an AP usually have much higher requirements for this position.
For example, French multinational advertising and public relations company Publicis in its job ad noted that "an AP handles a variety of requests in support of the production department's job flow, production activity and department organization. This person has to have an interest to crossover into all areas of production".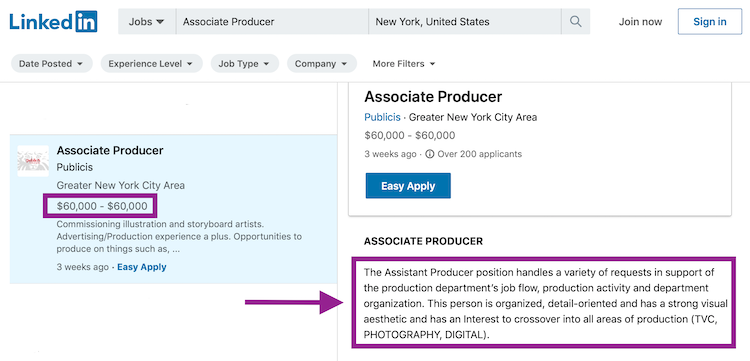 And for example NFL Media highlights that "associate producer creates audio & video content for the Podcast Department. The AP plays a big role in producing podcasts and editing video content."

Famous producer and writer Frank Barnas in one of his books notes that "associate producers help reporters put together packages when they are in a rush or have been assigned to a second story. They cut sound bites and pick video for the packages. When a package is reduced to a voiceover, the associate producer usually handles all the details, including writing the script" (Broadcast News Writing, Reporting, and Producing (7th Edition) by Frank Barnas, 2017).
While other authors explain that "the AP works with the producer on specific parts of the program. The AP's job is to implement the producer's initiatives. In some formats, such as panel programs or variety programs, they may greet guests and take them to the stage manager, who in turn takes them to their assigned dressing rooms" (Directing and Producing for Television (5th Edition) by Ivan Cury, 2017).
So as you see the true associate producer handles variety of duties and he/she should have quite different skills as well as many responsibilities as you can see that the job of the AP is to implement the producer's initiatives.
How much does an associate producer make?
In Glassdoor we found that the national average salary for an associate producer is $55,208 in the United States.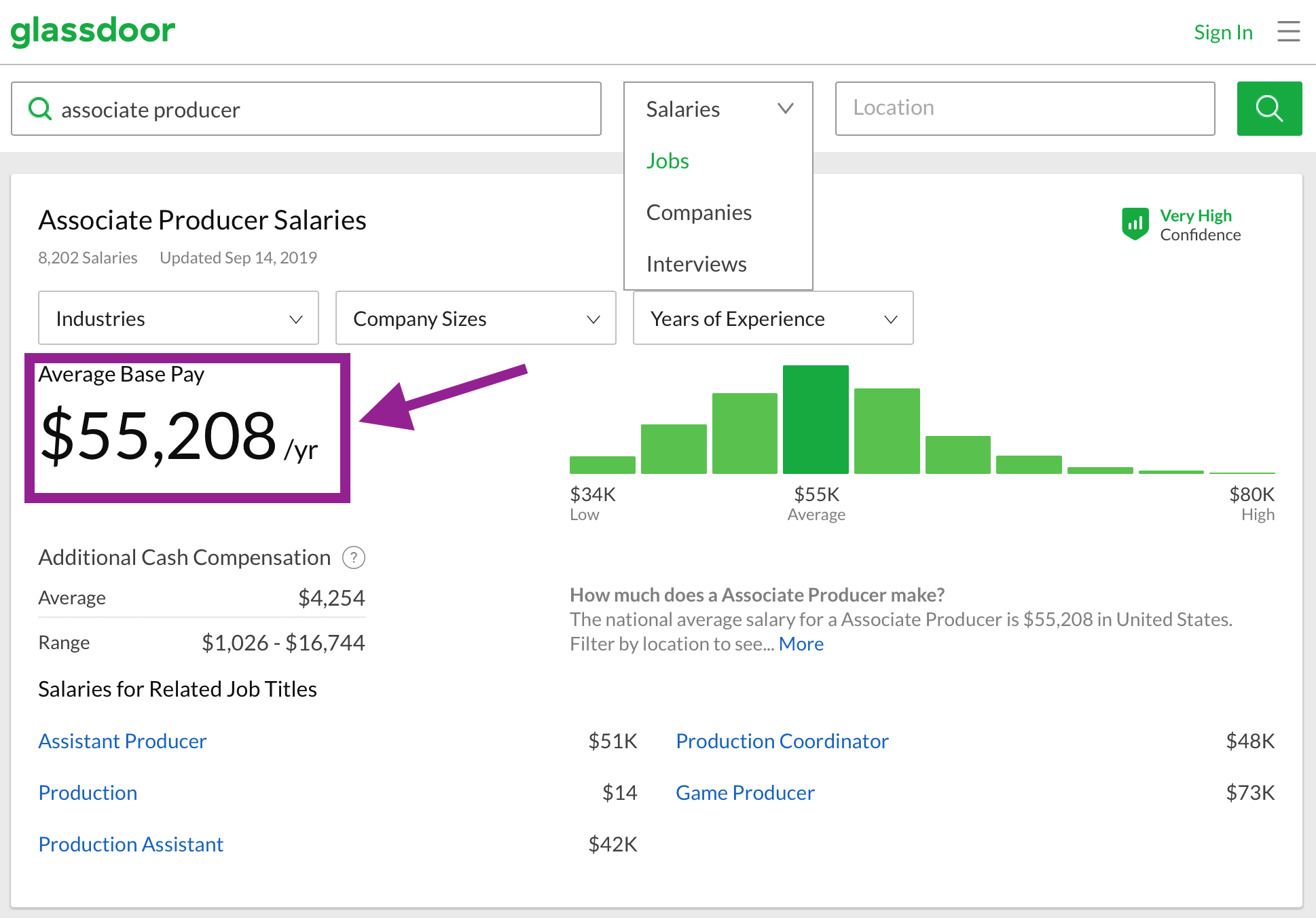 However average salary for an associate producer in New York is slightly higher, it's $60,781.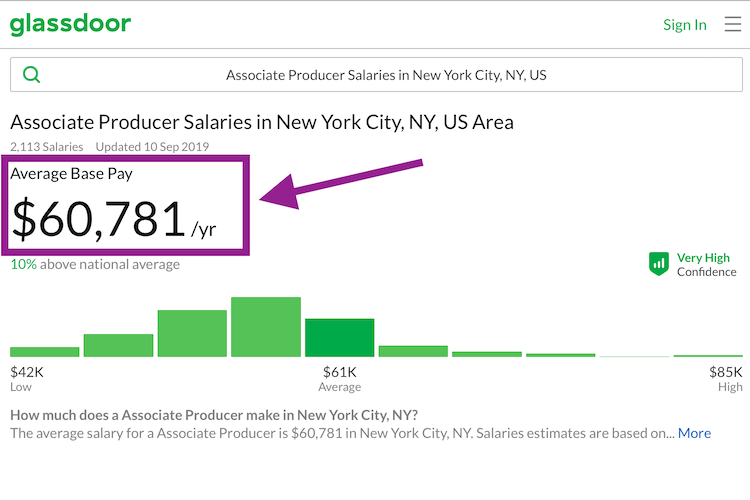 Payscale shows that the average salary for an associate producer is $49,857. You can also add $2,031 in bonuses and $4,000 in profit sharing to this salary.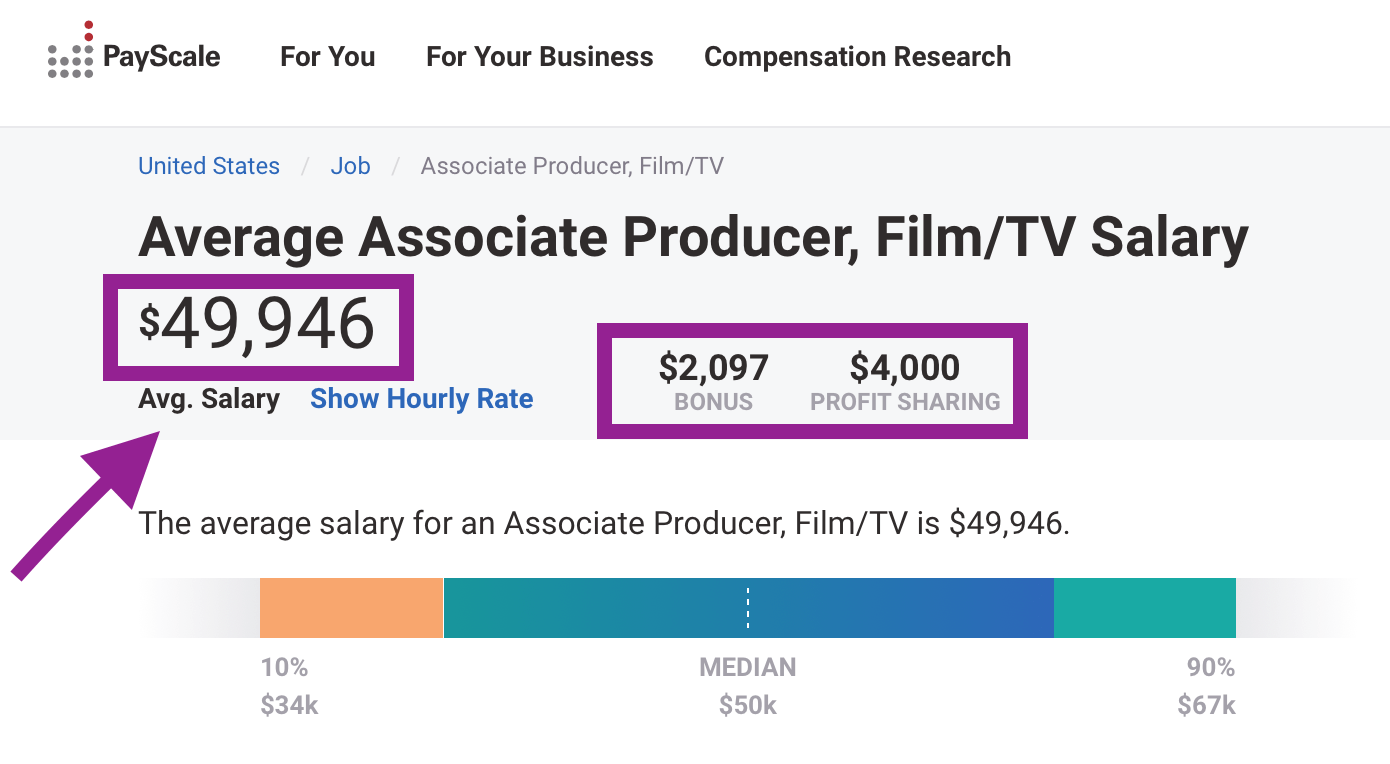 In Indeed we found that the associate producer's average wage per hour is $22.34 but it can also reach $33,83 per hour.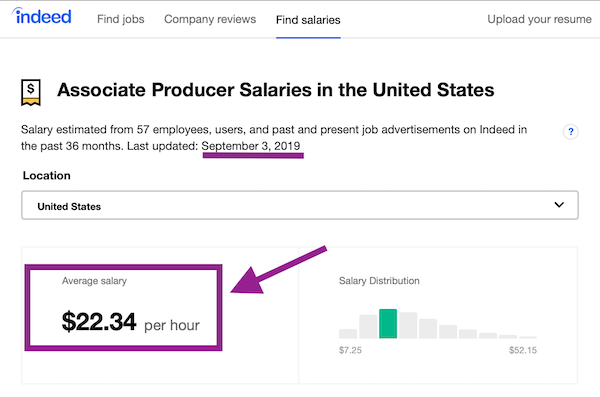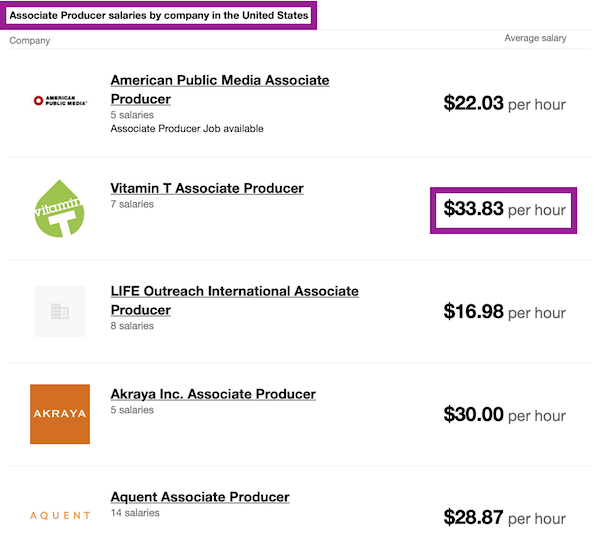 Job offers to check
We searched for job offers in LinkedIn and Glassdoor and look what a pretty interesting offers we found. Well-known companies like Warner Bros., Discovery, Marvel Entertainment, Publicis are looking for an associate producer and offer from $33K to $77K/year.
Let's take a closer look at these suggestions:
Warner Bros. seeks for an associate producer who will support the Producer with the day-to-day management of high-profile video games in development with 1st party and 3rd party developers. And the salary for this position is $47K-$77K/year.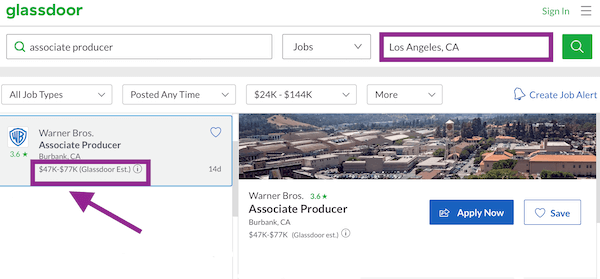 The main requirements for Warner Bros. are:
College degree or equivalent preferred.
2 – 4 years of Developer or Publishing QA experience. Sr. Tester or above preferred.
Knowledge and experience working in bug databases, Confluence, SharePoint and/or other database software required.
2+ years experience in console/PC video game production; experience with shipped console/PC games preferred.
Up-to-date knowledge of video game industry and games required; A strong background and understanding of multi-platform video game production preferred.
Experienced with Microsoft Office, including Word, Excel, and PowerPoint. Knowledge of MS Project and/ or SharePoint a plus.
Experience with JIRA or other bug database. Experience collaborating with licensors and/or filmmakers on video games a plus.
Art background and/or extensive experience with Illustrator and/or Photoshop a plus.
Management has the right to add or change duties and job requirements at any time.
Discovery is seeking for an associate producer to assist with the production of long and short-form content for multiple internal groups and advertisers. A strong television production background is required, as well as editing abilities and organizational skills. Suggested salary - $42K-$67K/year.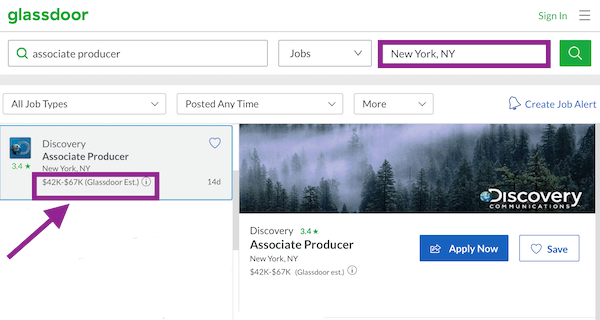 The main requirements:
Knowledge of Final Cut Pro or similar non-linear editing software.
Ability to handle multiple projects under tight deadlines.
Strong communication and organizational skills.
Knowledge of the cable television industry.
Proficient in Microsoft Word and Excel.
Ability to communicate with production companies in a professional, television term related manner.
Knowledge of Food Network and Cooking Channel programming is beneficial.
Bachelor's Degree in Communications, Advertising or related field.
1-3 years of television production experience.
Publicis (French multinational advertising and public relations company) is looking for associate producer and offers $60,000 per year.
The candidate must have knowledge of history and trends in digital, social, art, design and film; knowledge of photography, film, editorial and VFX; proficient in MS Office, Internet software, e-mail and calendar apps; advertising/production experience a plus, etc.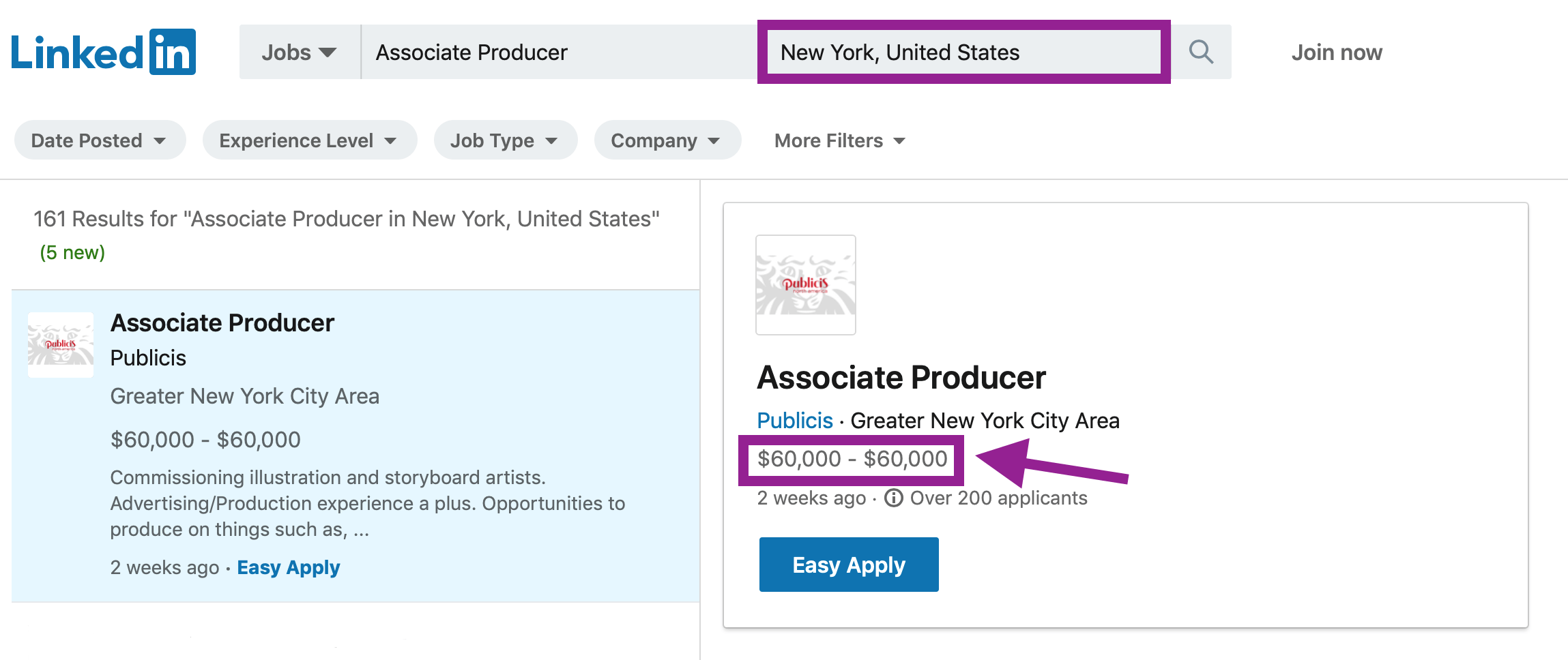 And one more great job offer. Marvel New Media are looking for an associate producer who will be tasked with the producing and editing in-house, field, promotional, and branded content projects that will be distributed on all Marvel and social media platforms.
This full-time, New York-based role will work closely with a team of producers, as well as the development, social, and editorial departments. The ideal candidate will have prior experience in live production, video editing and producing experience. And the salary for this position is $37K-$57K/year.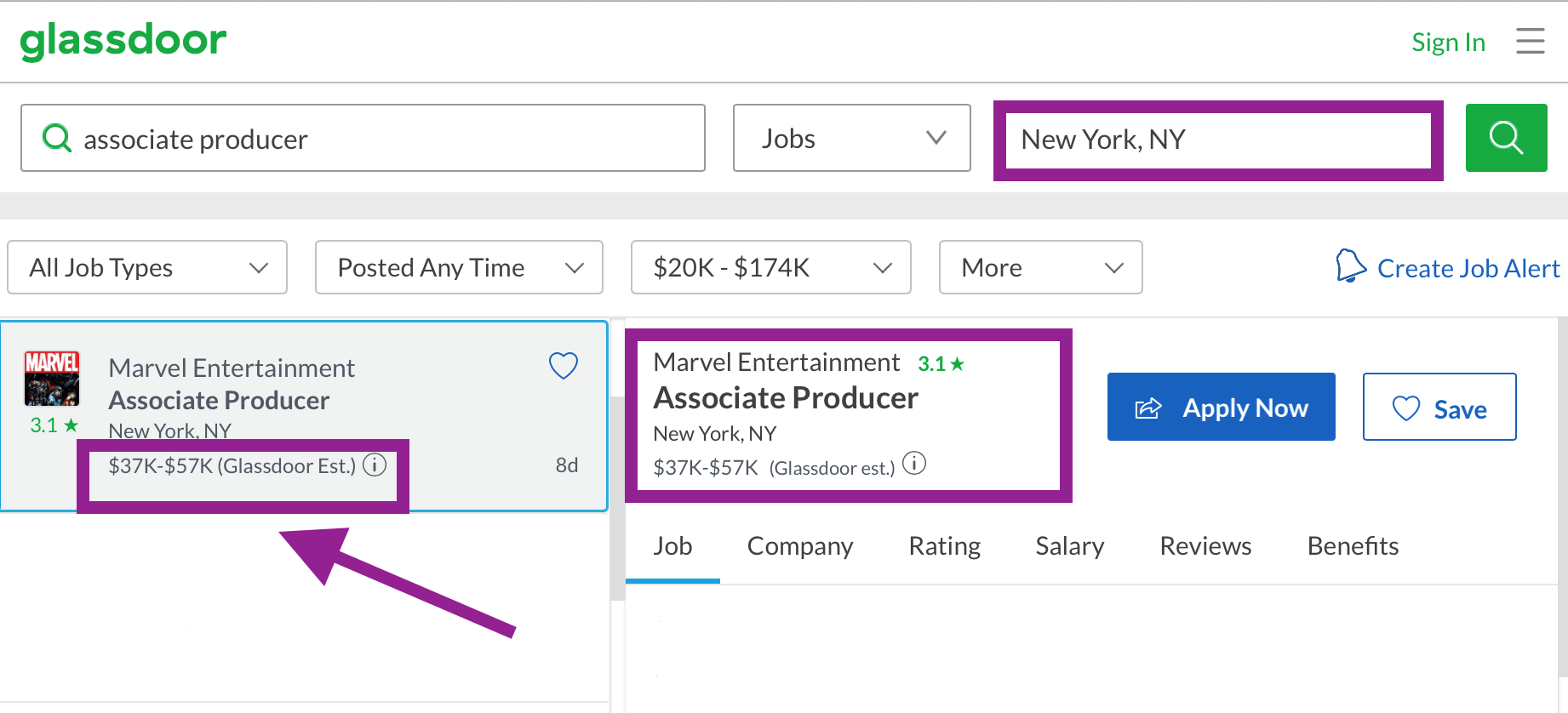 The main requirements for Marvel New Media are:
Minimum of 3 years experience in video content production, including producing, shooting, and editing. Short form, digital, social, and/or news experience is required.
Comfortable producing for branded and sponsored content campaigns.
Proficient in Adobe Premiere, After Effects and Photoshop.
Proficient in the use of broadcast equipment, cinema-style cameras, studio and field lighting, and audio recording devices.
Bachelor's degree (TV/Film/Journalism or related field) or equivalent work experience.
So we've picked up just a few examples here, but you can find many more. And don't hesitate to contact the companies you like directly.